Year 1
EXCITING THINGS THE CHILDREN WILL BE LEARNING IN THE SUMMER TERM…
Our topic for the whole term is Africa vs Antarctica.
The first half of our topic will be centred around 'Africa'. We will begin by learning all about the seven continents and locating the hot and cold areas of the world. We shall then focus on Kenya and the human and physical geographical features it has before comparing it to Waterbeach! In Science, we will be working to carry out an investigation into what a plant needs to grow. We shall plant seeds and see if they will grow in different conditions, such as hot or cold. In Computing we will learn about databases and pictograms and how to answer questions on them. In PE we shall be practising our athletics skills including walking and running over obstacles and throwing and jumping for accuracy and distance. In PSHE we will learn how to manage risks and be safe. We will learn all about road safety, sun safety and water safety and how encountering these risks might make us feel. In RE we shall be learning about the Sikh religion and how Sikh's contribute to the wider community. In Music, we will be learning about music around the world: from Antarctica to Africa.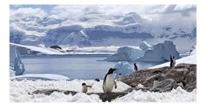 In the second half of the Summer term, we shall focus on 'Antarctica'. We shall begin to learn about two exciting explorers: Captain Robert Scott and Sir Ernest Shackleton before taking a closer look at three expeditions: The Discovery Expedition, The Nimrod Expedition and The Terra Nova Expedition. In DT, we will be designing a suitable vehicle for the Antarctic terrain then making this using wheels and axles. In Art, we shall be studying the artist Georgia O'Keefe. We shall explore colour mixing and creating shades and tints before painting a landscape in the style of O'Keefe. In Computing we will be learning how to present ideas. We will create a digital quiz and presentation to then present to the class. In RE we shall be exploring Christian beliefs around the question 'What is the good news Jesus brings?' We shall learn about the gospels and why Christians pray. In Music, we will be learning to sing some playground rhymes and games!
More information about our curriculum
More information about the curriculum content can be found in our 'Curriculum Captures' (click here). These are useful for parents to see the content of what is being taught and to use this information to help support your child at home.